A website-based chat is a convenient communication channel for customers, as well as a useful tool that businesses can use to increase sales and company loyalty. But can you be sure that inquiries made in chats will never be lost, or that support agents respond to them as quickly as possible? A helpdesk system will help ensure this, and we'll tell you exactly how in this article.

All inquiries are directed into a single system

For example, in the Pulsedesk helpdesk, all messages sent to the chat during business hours are directed to the 'Dialogs' section, while inquiries made outside business hours appear in the 'Tickets' section in the form of tickets. Support staff see all inquiries in one window, so they will be promptly processed and won't get lost. The Telegram and WhatsApp messengers, email, a client portal, and online chats are all connected to the helpdesk, in addition to inquiries handled by phone.

While third-party chats can be integrated with the system, it is more convenient when a helpdesk has its own. There are two types of web widgets available in Pulsedesk – a pop-up window and a LiveChat dialog box. These are easy to connect in the helpdesk's settings, and the cost is included in the basic package of services. You can also set the appearance of the widgets and determine how they will be used – as a way of sending messages, a knowledge base, or both.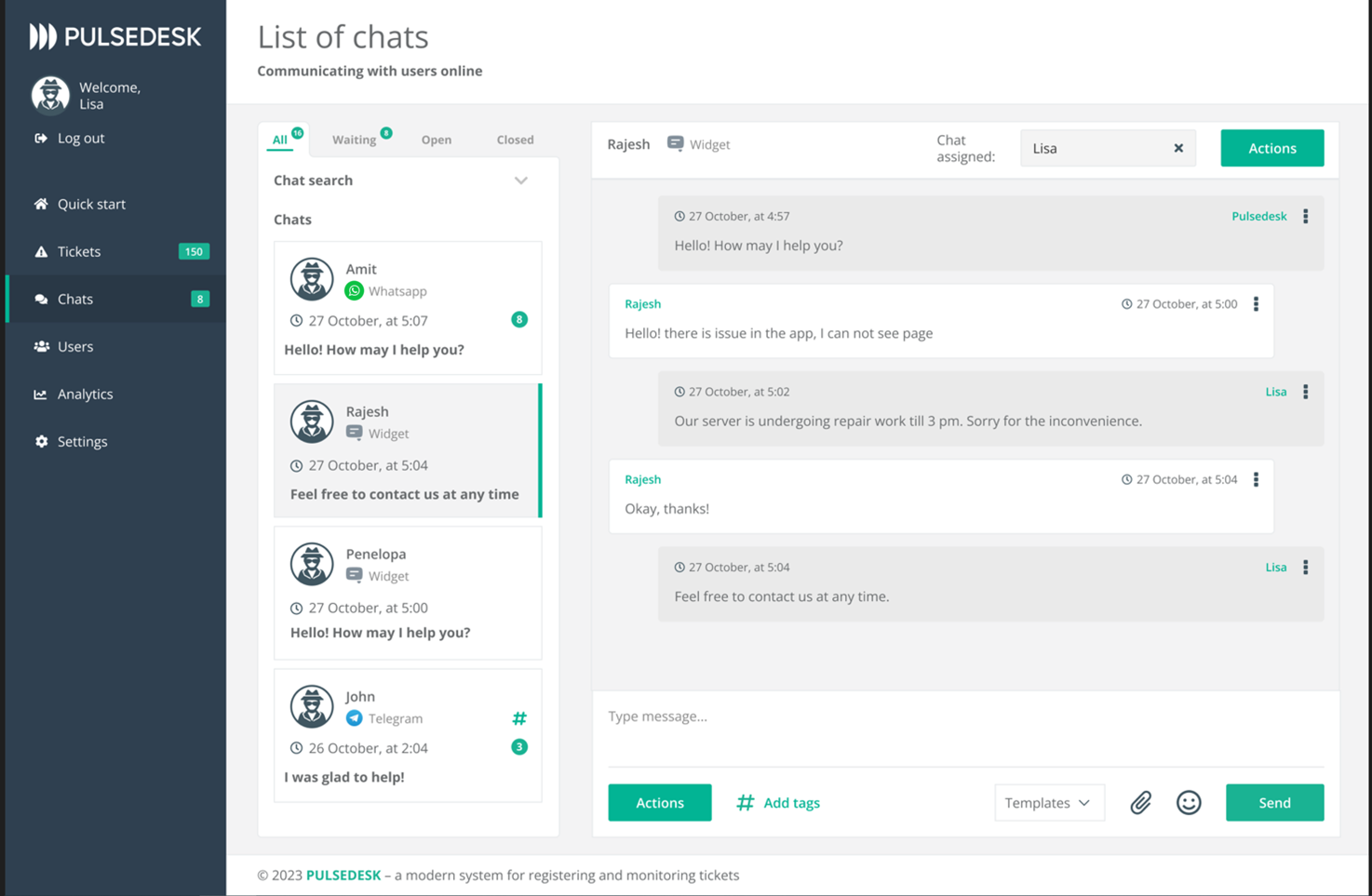 Customers can find the information they need on their own

As mentioned above, you can place a link in the chat leading to a knowledge base – a separate page where a company can publish articles with answers to frequently asked questions. This gives customers a choice – to contact support or find answers to their questions themselves. When chatting with a customer, a support agent can post a link to an article that addresses their question, which can be convenient and quite appropriate when necessary. The Pulsedesk knowledge base can be customized to fit your corporate identity and organized into categories for the convenience of users.
Dialogues are converted into tickets

Messages from chats on the website and messengers sent during business hours are directed to Pulsedesk's 'Dialogues' section, while those from other communication channels appear in the 'Tickets' section in the form of tickets. However, dialogs can also be easily turned into tickets, which may be necessary if a customer's issue will take a lot of time to resolve or require the involvement of specialists. With just a couple of clicks, all messages from correspondence, as well as attached media files, are automatically transferred to the ticket.

Both tickets and dialogs can be assigned tags – for example, 'sales', 'functionality', etc. Tags make it easier to find tickets when you need to clarify information. Ready-made response templates will help you respond to tickets more quickly, while their data fields – customer name, company name, and other information – will make responses appear more personalized.
Triggers to speed up ticket processing

Triggers are processing rules that are automatically executed on tickets under certain conditions. For example, in Pulsedesk, you can automatically assign a support agent or group of agents to both dialogues and tickets. The system is also configured so that the assignees receive an email notification immediately after tickets are created, so they will know that they have a new inquiry to process.
Interactive reports show the quality of support agents' work

With just a few clicks, Pulsedesk will generate detailed reports on each support agent, which can then be imported into Excel and used to evaluate the quality of the service provided by your staff. Here, you can clearly see how often customers contact support, how long it takes for them to receive a first response, and how much time it takes in total to resolve their issue.

You can monitor response times and compliance with SLA time limits using special counters. For example, you can set a limit on the time it should take for support agents to send a first response to customer inquiries.
Pulsedesk integrates with other software systems

Companies, especially larger ones, work with a large number of software systems, so it is important that a helpdesk integrates with them. Pulsedesk can be connected to Bitrix 24 and other CRM systems, from where all information about the client can be pulled into the helpdesk. This saves time, as you don't have to search for past inquiries, records, etc. in a different system. And an open API makes it possible to integrate Pulsedesk with any other software.

So, while online chats can help companies increase customer loyalty and ramp up sales, this tool needs to be used correctly in order to reap the full benefits. A helpdesk system that makes ticket processing faster and more efficient will be a great help in this.